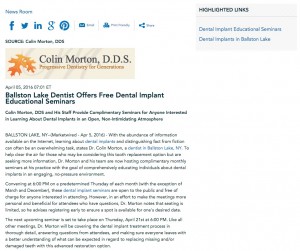 Colin Morton, DDS and his staff provide complimentary seminars for anyone interested in learning about dental implants in an open, non-intimidating atmosphere.
Ballston Lake, NY — With the abundance of information available on the Internet, learning about dental implants and distinguishing fact from fiction can often be an overwhelming task, states Dr. Colin Morton, a dentist in Ballston Lake, NY. To help clear the air for those who may be considering this tooth replacement option but are seeking more information, Dr. Morton and his team are now hosting complimentary monthly seminars at his practice with the goal of comprehensively educating individuals about dental implants in an engaging, no-pressure environment.
Convening at 6:00 PM on a predetermined Thursday of each month (with the exception of March and December), these dental implant seminars are open to the public and free of charge for anyone interested in attending. However, in an effort to make the meetings more personal and beneficial for attendees who have questions, Dr. Morton notes that seating is limited, so he advises registering early to ensure a spot is available for one's desired date.
The next upcoming seminar is set to take place on Thursday, April 21st at 6:00 PM. Like all other meetings, Dr. Morton will be covering the dental implant treatment process in thorough detail, answering questions from attendees, and making sure everyone leaves with a better understanding of what can be expected in regard to replacing missing and/or damaged teeth with this advanced restoration option.
Ultimately, Dr. Morton says he and his team aim to make the community more informed about their dental care options, and he hopes individuals who attend his seminars feel more knowledgeable about and comfortable in their decisions. For more information about Dr. Morton's educational dental implant seminars, or to find dates of future meetings scheduled to occur, visit his website at colinmortondds.com.
About Colin Morton, DDS
A Fellow of the International Congress of Oral Implantologists, Dr. Morton is the fourth generation of his family to work in the field of dentistry. At his Ballston Lake and Saratoga Springs area office, he offers an expansive range of general, cosmetic, and restorative dental services, including dental implants, porcelain crowns, implant dentures, routine checkups, and more. Dedicated to continually improving his practice, Dr. Morton remains actively involved in the American Dental Association, the Academy of General Dentistry, and the American Academy of Cosmetic Dentists, among other esteemed organizations. He is available for interview upon request.
Contact:
Dr. Colin Morton
One Rosell Drive
Ballston Lake, NY 12019
(518) 877-8687
Rosemont Media
(858) 200-0044
www.rosemontmedia.com