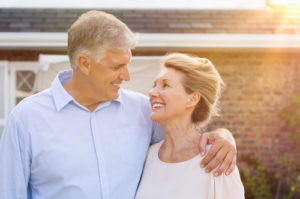 Thanks to years of advancement in dental medicine, individuals interested in replacing a full row of upper and/or lower teeth no longer have to settle for traditional dentures. At our practice, Dr. Colin Morton offers All-on-Four dental implants as an effective alternative, enabling patients to eat, speak, and smile with confidence once again.
What Is All-on-Four?
All-on-four is an implant-supported dentures technique that utilizes four dental implants to secure a full set of upper or lower teeth. Using this method, each implant is strategically placed along the jawbone of the arch being treated, with the two posterior posts inserted at an angle to access more bone for optimal stability. Once secure, a customized denture restoration is attached to the top of the four implants for a comfortable fit and natural-looking results.
What Are the Benefits of All-on-Four?
The benefits of tooth replacement with All-on-Four are numerous. In comparison to traditional dentures, some of the most notable advantages of All-on-Four can include:
A securer, more comfortable fit
No need for messy pastes or adhesives
No denture slippage while speaking, eating, or smiling
Limited—if any—bone and tissue deterioration resulting from tooth loss
Simpler maintenance
Results that appear, feel, and function more naturally
In addition to these benefits, All-on-Four can often be an ideal solution for people who have been told they are not a good candidate for a full set of dental implants due to poor jawbone density. Since only four implants per arch are used, the degree of bone density required for All-on-Four is generally less than that needed to replace a full row of teeth with single-tooth dental implants.
What Is the All-on-Four Procedure Like?
As a certified provider of TeethXpress® implant dentures, Dr. Morton is generally able to perform the All-on-Four procedure during one office visit.* Implant placement typically takes about thirty minutes to an hour per arch and usually requires only local anesthesia to minimize any potential discomfort. Once each implant is anchored in place, the denture restoration is fastened securely for an optimal look and fit. Regardless of whether treatment consists of upper arch replacement, lower arch replacement, or full mouth restoration, most patients are able to leave with new teeth the same day.
For more detailed information about the All-on-Four procedure, please visit the teeth in a day section on our implant dentures page.
*This does not include the initial consultation and/or any preliminary dental work that may be required, such as periodontal care, tooth extraction, or bone grafting.
How Do I Clean and Care for My All-on-Four Implant Restoration?
One of the key benefits of All-on-Four dental implants is that proper cleaning and care is generally very similar to what's recommended for natural teeth. In most cases, Dr. Morton instructs All-on-Four patients to follow a normal at-home oral hygiene schedule of brushing and flossing at least two times per day, as well as scheduling bi-annual dental visits to have the restoration and surrounding gum tissue cleaned professionally twice a year.
Also similar to natural teeth, Dr. Morton generally cautions patients to be mindful when consuming particular foods and to refrain from certain bad habits that may be harmful to the All-on-Four restoration. For example, biting down forcefully on fruits that contain hard pits—such as some cherries and olives—as well as crunching ice, biting one's fingernails, or using the teeth to tear or open packaging can lead to undue damage. Furthermore, if clenching or grinding of teeth during sleep is a problem, he may recommend a nightguard to further protect against excessive pressure or wear and tear over time.
While Dr. Morton may provide a few more specific instructions for how to properly clean and care for your All-on-Four dental implants based on your personal needs and treatment plan, you can likely expect the overall requirements to align closely with typical recommendations for natural teeth.
How Long Does All-on-Four Last?
When treatment is planned and performed properly by an experienced implant dentist like Dr. Morton, All-on-Four dental implants can last decades—sometimes even a lifetime. Of course, the exact longevity of results also depends on how well the restoration is cared for over time, which includes daily brushing/flossing, regular dental visits for professional cleanings, and protection against certain harmful habits/actions (as detailed in the previous section).
Fortunately, should a new All-on-Four restoration ever be required, the dental implants themselves will not likely need to be replaced, as they usually become permanent parts of the mouth once fully fused to the jawbone. In this case, only the full arch restoration secured to the top of the implants will need replacement, which does not require surgery.
How Much Does All-on-Four Cost?
Pricing for All-on-Four dental implants varies greatly due to the customization of treatment. Apart from case-specific factors, additional elements that can influence cost include the particular technique employed, the skill and experience of the dentist, and the city or region of the country in which the practice is located. To receive a personalized price quote for All-on-Four, we encourage you to schedule an appointment with Dr. Morton. During your visit, he can assess your unique needs/goals, formulate an individualized approach, and provide a detailed breakdown of all potential expenses associated with your treatment plan.
Contact Dr. Morton
For more information about All-on-Four, or if you are ready to find out if this innovative tooth replacement option is right for you, please feel free to contact our practice online or by phone today.