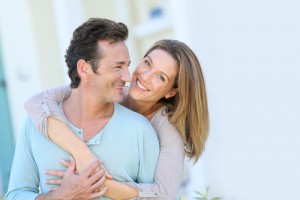 In order to eliminate bacterial infections affecting the gums, prevent future infections, and monitor the mouth for any dangerous abnormalities, Dr. Colin Morton uses the latest dental technology to help improve and maintain your oral health. Healthy gums and teeth are fundamental components of every beautiful smile, and as a result, the best cosmetic dentistry begins with disease treatment and prevention. At our practice, we want our patients' outer appearance to reflect their inner health.
Oral Cancer Screening
The earliest stages of oral cancer are oftentimes symptomless. In order to detect oral cancer as soon as possible, Dr. Morton uses comprehensive oral exams that utilize the latest oral cancer screening technologies to ensure each patient is cancer-free. Oral cancer screening takes only minutes to complete, is pain-free for the patient, and can quickly identify abnormalities in the tissues for prompt treatment. When detected in its earliest stages, oral cancer is easier to treat and recovery rates increase dramatically. Dr. Morton recommends yearly oral cancer screenings for his patients as part of their routine checkups. Patients who smoke should consider having oral cancer screenings conducted twice per year, as they have a higher risk for developing tissue abnormalities and pre-cancerous lesions. Since early detection is vital for the successful treatment of this life-threatening condition, oral cancer screenings are essential for maintaining good oral health.
Periodontics
Over 80% of Americans suffer from periodontal (gum) disease by the age of 45. Periodontal disease – which damages the gums, teeth, and jawbones – is a common condition but can lead to severe complications when left untreated. Patients with early stage periodontal disease exhibit red, swollen, bleeding, or receding gums. In its more advanced stages, periodontal disease can lead to bone decay and tooth loss. Dr. Morton encourages biannual oral exams for the best periodontal care. If a patient does exhibit signs of periodontal disease, our cosmetic dentistry practice offers several treatment options, including surgical and non-surgical techniques. Taking good care of your gums will help your smile look healthy and beautiful.
Schedule An Appointment
To learn more about the prevention and treatment of gum disease or oral cancer screenings, please contact our office today.