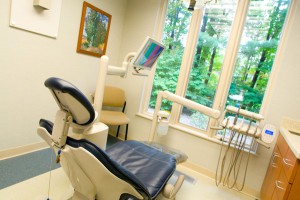 Dr. Colin Morton takes pride in his commitment to delivering high-quality results using the latest dental technology, while also making patient comfort a top priority. With a wide variety of dental solutions, patients can address both aesthetic and functional concerns while attaining the beautiful smile they desire. Please read more about the ways in which we can help you achieve your goals below.
Regaining Chewing Function
With the recent advancements in restorative dentistry, more people have been able to fully restore functionality to their teeth than ever before. Our range of dental implant procedures can replace broken or missing teeth with secure restorations that are integrated into the patient's mouth, typically resulting in a natural-looking (and natural-feeling) appearance. Implant dental crowns, implant dental bridges, and implant-supported dentures allow people to eat and speak with ease while simultaneously delivering beautiful results.
Learn More about Implant Dentistry
Enhancing Beauty
Cosmetic dentistry procedures can improve the appearance of your smile as well as your oral health. Options such as teeth whitening can lighten and brighten the shade of your existing teeth, while porcelain veneers can be used to quickly and easily remedy stained, misaligned, or chipped teeth. For patients looking to address multiple cosmetic dental issues or reverse the effects that aging can have on the teeth, Dr. Morton also offers comprehensive smile makeovers.
Learn More about Cosmetic Dentistry
Proactive Dentistry
Patients actively seeking to address their dental concerns to improve the appearance of their teeth have a variety of cosmetic dentistry procedures to choose from at the practice of Colin Morton, DDS. Porcelain crowns and porcelain bridges allow teeth to be repaired or replaced with a durable material that mimics the color of the patient's original teeth, often resulting in a very natural look and feel. Tooth-colored fillings and onlays also provide a method of dental repair with results that can seamlessly blend with the rest of the patient's smile.
Learn More about Proactive Dentistry
Restoring Oral Health
To ensure his patients maintain healthy mouths as well as their beautiful smiles, Dr. Morton recommends they have routine cleanings and exams at least twice per year. X-ray technology allows prompt detection of any emerging dental issues, and teeth cleanings provide a deeper clean and polish than can be achieved with standard brushing and flossing.
Learn More about General Dentistry
Alleviating Dental Anxiety
To help his patients feel comfortable and confident when visiting our practice, Dr. Morton has worked to create an atmosphere of trust and compassion. Nitrous oxide and oral medications assist patients in feeling relaxed during dental procedures, while our newly remodeled office is designed to provide patients with some of the amenities they enjoy in the comfort of their own homes.
Learn More about Sedation Dentistry
Eliminating Disease
Since over 80% of Americans show signs of periodontal disease by the age of 45, Dr. Morton has prioritized the elimination and prevention of gum disease. Both surgical and non-surgical treatment options are available, depending on the severity of the patient's condition. He also routinely performs oral cancer screenings for his patients to detect any abnormalities at the earliest possible stage.
Learn More about Periodontal Care
Schedule An Appointment
To learn more about the practice of Colin Morton, DDS and how he can help you achieve your cosmetic dentistry goals, please contact our office today.