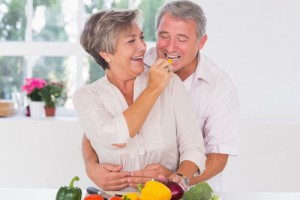 For patients struggling with the inconveniences and discomfort of traditional dentures, Dr. Colin Morton offers a state-of-the-art alternative. Dental implants have revolutionized the way in which dentures can replace missing teeth. Implant dentures—also referred to as implant-supported dentures or anchored dentures—can restore your teeth with natural-looking results that improve the functionality of your mouth as well as the beauty of your smile.
To learn more about implant dentures, we encourage you to read through the expansive information provided below. If you have any questions, or if you would like to schedule a consultation with our skilled cosmetic dentist, please feel free to contact our practice online or by telephone today.
What Are the Benefits of Implant Dentures?
For women and men seeking to replace multiple missing and/or severely damaged teeth, the benefits of implant-supported dentures can include:
Increased stability
No messy adhesives
Improved comfort
Preservation of bone and tissue
Natural-looking teeth
Long-lasting results
New teeth in a single office visit
Since these dentures are securely fastened into place by a set of dental implants, the slippage, irritation, use of adhesives, and loss of bone and tissue that are associated with more traditional methods of tooth replacement can be avoided. In addition, these traditional denture alternatives can be custom-designed to fit the precise dimensions of your mouth and crafted to resemble your natural teeth.
What Are My Different Implant Denture Options?
At our practice, Dr. Morton utilizes a same day anchored dentures system known as TeethXpress®. Depending on your specific needs, the following implant denture options are available:
All-on-4® Implant Dentures
All-on-4® implant supported dentures are designed to replace missing teeth on the upper or lower arch using only four dental implants. With this technique, four implants will be inserted into the jawbone along either the upper or lower arch, with the two posterior implants being placed at an angle to maximize jaw bone availability and improve stability. Once in position, a customized set of dentures is secured to the tips of the four implant posts, completing the restoration.
All-on-6 Implant Dentures
All-on-6 anchored dentures are very similar to All-on-4®, with the difference being that six dental implants are used to anchor the upper or lower arch prosthetic. This technique is typically an appropriate option when four implants would not provide a sufficient amount of support for the full arch restoration due to factors such as jawbone quality/density.
Full Mouth Restoration
The term "full mouth restoration" refers to replacing all of one's upper and lower teeth using implant-supported dentures. This is accomplished by placing either an All-on-4® or All-on-6 implant denture on the upper arch, as well as an All-on-4® or All-on-6 implant denture on the lower arch. The final outcome is a fully functional, natural-looking set of new teeth.
Teeth in a Day with TeethXpress® — Same Day Implant Dentures Procedure
Dr. Morton is a certified provider of TeethXpress®—a state-of-the-art implant denture system designed to allow patients to receive anchored dentures in a day. During your initial consultation, he will perform a thorough oral evaluation to determine if TeethXpress® implant dentures would be right for your unique needs and goals. If it is decided that you are a good candidate, Dr. Morton will create a customized treatment plan and cover every aspect of care in complete detail to ensure you have a full understanding of what to expect based upon your individual circumstances.
On the day of your scheduled TeethXpress® procedure, Dr. Morton will carefully place four (or six) dental implants in strategic locations along the jawbone of the upper or lower arch, typically using local anesthesia. If needed, this implant placement process will then be repeated for the opposite arch. Once all implants are secured into position, your denture(s) will be affixed to the top of each post using special prosthetic screws. Depending on the specific treatment plan formulated during the initial visit, Dr. Morton can use your current denture(s), or he can utilize a new set that he will have custom-made prior to the procedure. In either case, you should be able to leave our office with new teeth the same day.
Following the TeethXpress® implant denture treatment, you may experience some minor discomfort, but this can usually be alleviated with medication. Most individuals feel well enough to return to work and other normal daily routines the following day, and they can once again enjoy all of their favorite foods and beverages. Ultimately, Dr. Morton's patients have been able to chew, drink, and speak with ease after switching from traditional dentures to implant-supported dentures, and they have beautiful smiles that can give a renewed sense of confidence in their professional and personal lives.
Schedule an Appointment
If you would like more information on this traditional denture alternative, or to schedule a consultation with Dr. Morton, please contact our office today.