What Is a Full Mouth Restoration?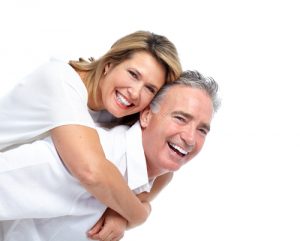 Full mouth restoration—sometimes referred to as full mouth reconstruction or full mouth rehabilitation—is a term used to describe the process of achieving proper function and beautiful aesthetics for all of one's teeth. This customizable technique may be a great option if you are missing several teeth; you have numerous chips, cracks, or signs of wear and tear; or you simply wish to enhance the overall health and appearance of your smile.
What Are My Full Mouth Restoration Procedure Options?
At our practice, Colin Morton, DDS offers a wide array of cosmetic and restorative dentistry options that can be combined to address your specific needs while helping you attain your oral goals. Some of the most common treatments that can potentially be performed during a full mouth restoration include:
The Full Mouth Reconstruction Process
During your initial appointment, Dr. Morton will perform an extensive oral evaluation to determine which combination of treatments may be the most effective for your unique needs and desired outcome. The total number of office visits (and time in between visits) needed to complete your full mouth restoration will depend on the complexity of your case and the specific procedures performed.
Throughout the entire process, Dr. Morton and our staff will be highly attentive to your every need, helping to ensure you remain as comfortable and pain-free as possible. For those who need a little extra help relaxing during treatment, we offer various sedation dentistry methods designed to alleviate dental anxieties and improve the efficiency of your time in the dental chair.
Once the final touches of your full mouth restoration are complete, you can expect a significant improvement in both the look and function of your teeth, allowing you to eat, speak, and smile with confidence.
How Much Does Full Mouth Restoration Cost?
The cost of a full mouth restoration will vary based on several factors unique to each patient's treatment plan. First, the state of one's oral health can greatly impact pricing. For example, an individual who has gum disease may require periodontal care prior to tooth replacement, likely leading to a higher cost than someone who has healthy gum tissue with the same number of missing and/or damaged teeth.
Secondly, the specific restorative options selected to achieve an optimal outcome will influence the total expense of treatment. The use of dental implants generally costs more than traditional bridges or dentures (though the higher price of dental implants is representative of their quality and long-term success), and any complementary procedures like teeth whitening or porcelain veneers will add to the final quote.
Lastly, the skill and experience of the dentist will affect the cost of a full mouth restoration. Although lower prices can be enticing, it is important to understand that rates for various treatments and procedures are often reflective of the doctor's overall expertise and past results, as well as the quality of dental materials and level of care you can expect.
Obtaining a Custom Full Mouth Restoration Price Quote
To determine exact pricing for your full mouth restoration, Dr. Morton will need to see you for an in-person consultation. At this time, he will assess your dental health, listen carefully to your smile goals, and recommend procedures that can yield the best long-term results. Once you have agreed upon an individualized approach, our office can provide a quote for the expected total cost of your treatment plan.
If you are interested in financing your full mouth restoration, our practice partners with several healthcare lenders that offer a variety of affordable payment plan options. A member of our team will be happy to help you get started on the approval process for a payment plan that fits comfortably within your budget.
Schedule Your Appointment Today
If you have cosmetic and functional dental concerns you would like to address as part of a full mouth restoration, we encourage you to contact our office online or by phone today to schedule an appointment with Dr. Morton. We are happy to help you achieve your smile goals!