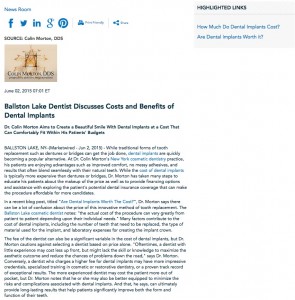 Dr. Colin Morton aims to create a beautiful smile with dental implants at a cost that can comfortably fit within his patients' budgets.
Ballston Lake, NY – While traditional forms of tooth replacement such as dentures or bridges can get the job done, dental implants are quickly becoming a popular alternative. At Dr. Colin Morton's New York cosmetic dentistry practice, his patients are enjoying advantages such as improved comfort, no messy adhesives, and results that often blend seamlessly with their natural teeth. While the cost of dental implants is typically more expensive than dentures or bridges, Dr. Morton has taken many steps to educate his patients about the makeup of the price as well as to provide financing options and assistance with exploring the patient's potential dental insurance coverage that can make the procedure affordable for more candidates.
In a recent blog post, titled "Are Dental Implants Worth The Cost?", Dr. Morton says there can be a lot of confusion about the price of this innovative method of tooth replacement. The Ballston Lake cosmetic dentist notes: "the actual cost of the procedure can vary greatly from patient to patient depending upon their individual needs." Many factors contribute to the cost of dental implants, including the number of teeth that need to be replaced, the type of material used for the implant, and laboratory expenses for creating the implant crown.
The fee of the dentist can also be a significant variable in the cost of dental implants, but Dr. Morton cautions against selecting a dentist based on price alone. "Oftentimes, a dentist with little experience may cost less up front, but might lack the skill or knowledge to maximize the aesthetic outcome and reduce the chances of problems down the road," says Dr. Morton. Conversely, a dentist who charges a higher fee for dental implants may have more impressive credentials, specialized training in cosmetic or restorative dentistry, or a proven track record of exceptional results. The more experienced dentist may cost the patient more out of pocket, but Dr. Morton notes that he or she may also be better equipped to minimize the risks and complications associated with dental implants. And that, he says, can ultimately provide long-lasting results that help patients significantly improve both the form and function of their teeth.
About Colin Morton, DDS
Dr. Morton offers dental implants, teeth whitening, porcelain veneers, and many other general and cosmetic dentistry procedures at his Ballston Lake and Saratoga Springs area practice. He is the fourth generation of his family to work in the dental field and has attained Fellowship in the International Congress of Oral Implantologists. Dr. Morton is also a member of the Academy of General Dentistry, the American Academy of Cosmetic Dentistry, and the American Dental Association. Dr. Morton is available for interview upon request.
For more information, visit colinmortondds.com and plus.google.com/100646536887283340636/about.
Contact:
Dr. Colin Morton
One Rosell Drive
Ballston Lake, NY 12019
(518) 877-8687
Rosemont Media
(858) 200-0044
www.rosemontmedia.com