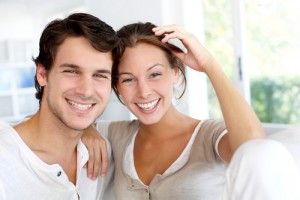 Dr. Colin Morton is a cosmetic dentist who believes that healthy teeth and gums are the essential building blocks of a beautiful smile. Many patients have concerns beyond staying healthy and elective cosmetic dentistry is there to satisfy that demand. Discolored, uneven, or worn teeth can be cosmetically enhanced to become beautiful smiles. Dr. Morton's exceptional skills have helped many of our patients feel more confident about their smile and increased their self-esteem. If you are interested in taking your smile to the next level, take a few moments and see how we can enhance the appearance of your teeth for a more youthful and vibrant look. If you have questions, or if you would like to schedule an appointment, please contact us today.
Porcelain Veneers
If you are self-conscious about stains, chips, cracks, or misaligned teeth, porcelain veneers can provide you with a brighter, healthier-looking smile. Veneers can be used to lighten the shade of your teeth or reshape your teeth to improve symmetry. By applying a thin, custom-designed porcelain shell to the affected teeth, Dr. Morton can conceal imperfections and achieve beautiful, natural-looking results.
Learn More About Porcelain Veneers
Teeth Whitening
Stains and discoloration can have a dramatic impact on your appearance as well as your confidence. As a result, teeth whitening has become one of our most requested cosmetic dentistry procedures. You can quickly and effectively brighten your teeth by several shades for a revitalized smile with take home professional whitening kits that are safe and simple to use.
Learn More About Teeth Whitening
Age Reversing Dentistry
If you are seeking a more comprehensive rejuvenation, Dr. Morton can design a custom-tailored smile makeover that can take years off the appearance of your teeth. As we grow older, our teeth gradually show signs of natural wear and tear. Tobacco use and drinking beverages such as wine and coffee can also have a cumulative impact on our teeth. Using a combination of age-reversing dentistry procedures, Dr. Morton can address many common cosmetic concerns such as stains, chips, cracks, crooked teeth, missing teeth, visible metal fillings, bite misalignment, and uneven gum lines.
Learn More About Smile Makeovers
Schedule an Appointment
Please contact us for more information on our cosmetic dentistry procedures, or to schedule an appointment.