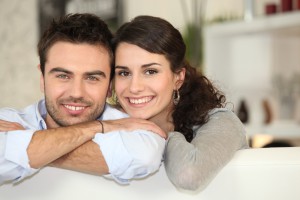 Good oral health is a cornerstone of a beautiful, long-lasting smile. At our practice, Dr. Colin Morton offers several general and restorative dentistry procedures that can help strengthen your teeth, address many common cosmetic concerns, and reduce the risk of more complicated oral health issues. These innovative techniques are used to improve or correct dental problems including:
Tooth decay
Structural Cracks
Chips
Broken or fractured teeth
Worn down or shortened teeth
Tooth gaps or misalignment
Missing teeth
As a cosmetic dentist, Dr. Morton approaches general and restorative dentistry with the aim of achieving natural-looking results. The following treatments are designed to fix structural concerns, use materials that match the shade of your healthy teeth, and give you a seamless, beautiful smile. If you have any additional questions, or if you would like to schedule a consultation, please contact us today.
Tooth-Colored Fillings
Unlike metallic fillings that can detract from the beauty of your smile, tooth-colored fillings provide a natural-looking alternative. Comprised of a composite resin, tooth-colored fillings are designed to match the shade of your existing teeth for inconspicuous cavity repair. Tooth-colored fillings can not only strengthen your teeth that have been damaged by decay, but they can also keep your smile looking healthy and youthful.
In addition to the cosmetic benefits, tooth-colored fillings may protect your teeth more effectively than amalgam metal alternatives. Metal fillings can expand and contract due to changes in temperature, allowing room for bacteria to form beneath the filling and cause additional damage to the tooth. Conversely, tooth-colored fillings are bonded in layers to the tooth and can better protect the tooth against future decay. Also, using tooth-colored fillings avoids the hazardous waste associated with mercury fillings, making this proactive dentistry treatment beneficial for both you and the environment.
Whether you are replacing an old metal filling or simply filling an existing cavity, Dr. Morton uses tooth colored fillings to prevent further damage without compromising cosmetic concerns.
Tooth-Colored Onlays
Left untreated, decay can significantly damage a tooth, diminish its structure, and make the tooth unsuited to receive large fillings. In these cases, Dr. Morton can use tooth-colored onlays to repair this damage while also rejuvenating your smile. Tooth-colored onlays can actually provide more support than a filling and are often better able to restore your tooth's natural appearance.
The procedure for tooth-colored onlays is typically completed in two stages. First, Dr. Morton will prepare the tooth, take an impression, and temporize the tooth. Your custom-made tooth-colored onlays are formed from these impressions and designed to match the shade of your teeth. During your second visit, Dr. Morton will then bond the onlays to the existing tooth structure for a cohesive, uniform appearance. After this procedure, your teeth are strengthened with results that both look and feel natural and are longer lasting than large fillings.
Porcelain Crowns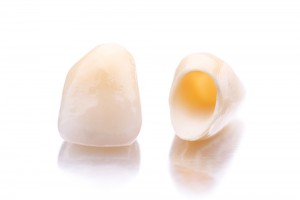 If you have teeth that are cracked or broken due to decay, or if you have recently had root canal therapy, porcelain crowns can repair and strengthen the teeth in a manner that is cosmetically inconspicuous. Porcelain crowns can also be used to improve the appearance of worn-down, short, or unevenly spaced teeth. An all-porcelain crown can reflect light just like a natural tooth, rendering the crown virtually indistinguishable.
The procedure for porcelain crowns is usually completed in two stages. First, Dr. Morton will prepare and reshape the damaged tooth to receive the crown before taking an impression to achieve a precise fit. During your second visit, Dr. Morton will then bond the crown to your tooth so that you can once again enjoy a seamless, healthier smile. You may even have a difficult time telling the difference between the crown and your natural teeth!
"Dr. Morton has placed many restorations and crowns on my teeth and they feel and look natural. They're comfortable, they're functional, and they don't look different from my own teeth."
Porcelain Bridges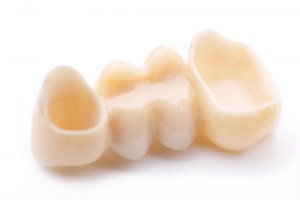 Porcelain bridges can replace a missing tooth, restore your smile, and improve your oral health. The gap left by a missing tooth not only impacts the cosmetic appearance of your smile, but can impact the overall health of your mouth. When a gap is allowed to remain, the teeth adjacent to the space can shift, causing bite problems, further cosmetic issues, as well as increasing the risk of gum disease. Porcelain bridges can rejuvenate the appearance of your smile by filling in the gap with joined crowns.
Dental Implants
In addition to causing aesthetic and functional concerns, missing teeth can have a negative impact on supportive oral structures like the jawbone. When a missing tooth goes unreplaced for a long period of time, the bone tissue in the area where the tooth roots once were will progressively deteriorate, eventually leading to issues far more significant than a gap in one's smile.
Fortunately, dental implants can often provide an excellent solution for missing teeth, helping you improve the appearance and function of your smile while also preventing/halting bone deterioration and restoring oral health. Designed to act as a natural tooth root, the implant itself is secured in the jawbone in the area of the missing tooth. Once fused to the bone, a customized porcelain crown is attached to the tip of the implant, providing a natural look and feel that can last for decades with proper care.
Proactively Maintaining Good Oral Health
The best way to prevent the need for restorative dentistry—or to maintain the durability and appearance of a previous restoration—is to be proactive about your dental health. In addition to brushing and flossing on a regular basis, this includes visiting the dentist for routine checkups at least two times a year. During these appointments, Dr. Morton and our team can perform an oral exam, provide a professional cleaning, and help to detect any emerging dental issues before they become a bigger problem. To learn more, please visit our page devoted to proactive dentistry.
Schedule an Appointment
For more information on proactive dental care, or to schedule a consultation, please contact Dr. Colin Morton today.