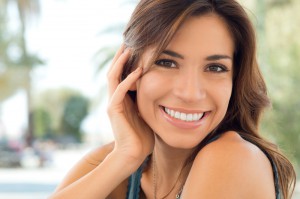 Stained, crooked, misaligned, or chipped teeth can easily be fixed with porcelain veneers. In a process known as "instant orthodontics," cosmetic dentist Colin Morton, DDS uses porcelain veneers to change the shape, length, and alignment of teeth to create a beautiful smile. Using strong, thin layers of porcelain, Dr. Morton is able to effectively conceal both major and minor imperfections in your teeth. The process is simple and can be completed in as little as two visits. For those individuals who don't want to spend years caring for braces, porcelain veneers can be used to not only change the shape of their teeth, but also to close gaps between their teeth and correct misalignment.
Porcelain veneers are an excellent cosmetic dentistry treatment that may be able to help you achieve the smile you have always wanted. We encourage you to read the following list of frequently asked questions.
What are porcelain veneers?
Porcelain veneers are very thin, translucent shells that are affixed to the front surfaces of teeth to conceal chips, cracks, misalignment, and discoloration.
How are porcelain veneers applied?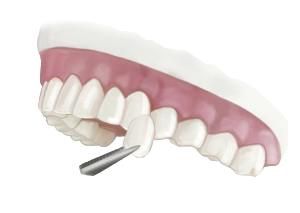 Porcelain veneers are typically applied in two stages. First, your cosmetic dentist will prepare your teeth for the veneers placement. This requires the removal of a small amount of tooth enamel to make room for the veneers. During the second stage, which occurs after the veneers have been crafted to meet your individual needs, they are applied and adjusted to ensure a natural-looking, beautiful result.
Are veneers an alternative to braces?
In some cases of minor misalignment, veneers can be used as an alternative to braces. This process is commonly referred to as "instant orthodontics." The best way to find out if this option is right for you is to consult with a cosmetic dentist.
Can veneers be removed?
The porcelain veneers procedure is not reversible because of the thin layer of enamel that is removed to accommodate their placement.
How do I care for porcelain veneers?
Porcelain veneers are very durable, so you can eat and drink as you normally would. You will still need to follow proper dental hygiene habits and receive regular dental checkups and cleanings to keep them strong and looking their best.
Schedule An Appointment
If you are interested in this dental procedure and would like to learn more, please contact our office to schedule a consultation with Dr. Morton. He will be happy to discuss your goals and help you determine whether or not porcelain veneers would be ideal for your unique needs.