Creating Beautiful First Impressions
Meet Dr. Colin Morton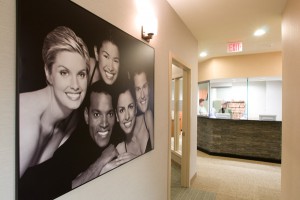 Colin Morton, DDS is proud to be the fourth generation of his family to excel in the field of dentistry in Ballston Lake. Creating beautiful first impressions for decades, Dr. Morton's family tradition of modern, progressive dentistry is reflected in every aspect of his practice, from the quality results he produces to his state-of-the-art dental facility.
Since he first began practicing in 1997, providing superior dentistry and establishing strong doctor-patient relationships have been focal points of Dr. Morton's dental career. Every individual's initial visit to our practice involves a casual "get-to-know-you" session during which he focuses on creating a personal connection and rapport while learning about their unique needs and desires. Unlike many other medical professionals today, Dr. Morton prides himself on knowing each patient by first name, and he is committed to maintaining a care-oriented environment in which everyone is treated like family. In addition, our professional team is experienced and equally dedicated to providing exceptional dental care, spending a lot of time to really get to know patients on a personal level.
As a proponent of continuing education, Dr. Morton regularly attends courses and seminars to learn about the latest, most advanced techniques available in cosmetic and implant dentistry. Furthermore, he is a Fellow of the International Congress of Oral Implantologists, and he remains an active member of such prestigious dental organizations as the American Academy of Cosmetic Dentistry, the American Dental Association, and the Academy of General Dentistry.
Above all, Dr. Morton and our team are devoted to ensuring every individual who walks through our doors receives the exceptional level of care necessary to achieve healthy teeth and a bright, beautiful smile.
What Is a Cosmetic Dentist?
A cosmetic dentist is a dental professional who—along with offering general oral care services— specializes in aesthetic and restorative procedures that enhance the appearance and function of teeth. They have typically undergone extensive supplemental training in cosmetic techniques that enable them to achieve exceptionally beautiful, natural-looking results to addition to improving their patients' oral wellness.
Patients typically seek the expertise of a cosmetic dentist when they have tooth imperfections such as chips, cracks, fractures, gaps, spaces, stains, or discoloration. As a result, some of the most common procedures cosmetic dentists perform on a regular basis include porcelain veneers, teeth whitening, porcelain crowns, dental implants, and full smile makeovers/restorations.
By choosing a skilled and experienced cosmetic dentist, you can expect a full range of quality care with optimal aesthetic outcomes.
How to Choose the Best Cosmetic Dentist
When seeking cosmetic dental care, it is important to keep in mind that not all providers are equally trained, skilled, or certified. Dr. Morton has compiled the following tips for choosing the best cosmetic dentist for yourself or a loved one:
Carefully examine the credentials and professional background of the dentist. Most credible cosmetic dentists have a biography on their website that allows you to read about which areas of dentistry they concentrate in and follow the narrative of their career path. You can also discover the professional organizations with which the cosmetic dentist is affiliated, as well as identify any prestigious titles they have earned (e.g. "Fellow" of the International Congress of Oral Implantologists).
Review before-and-after photos of the procedure(s) you want to have performed. Many cosmetic dentists have an online smile gallery that allows you to see the type of results they are capable of achieving with the treatment(s) you are considering. These galleries can also serve as a valuable resource during the preliminary consultation, facilitating communication about your expectations.
Read patient testimonials. These first-hand accounts can give you a good idea of what to expect, beginning with the consultation process and ending with any follow-up appointments.
Finally, schedule a consultation with your prospective cosmetic dentist. During this time, you can ask any questions you may have and determine if you feel a strong sense of rapport. You want to choose a cosmetic dentist who instills confidence and inspires trust while treating you as individual and not just another number in a long list of patients.
Questions to Ask Your Cosmetic Dentist
To further ensure a cosmetic dentist is right for you, Dr. Morton recommends using the following questions as a guideline during your preliminary consultation:
Which cosmetic dentistry procedure can best achieve my goals?
How often do you perform this procedure?
Will I need any oral health treatments performed before my cosmetic dentistry treatment? If so, what do you recommend and do you offer these services?
What can I expect during my procedure(s)?
What will you do to control any potential pain or discomfort I might experience?
What materials are used to make my restoration(s)?
How long will it take to complete my treatment plan?
What type of follow-up care do you provide?
How long will my results last?
How much will my procedure cost, and do you offer any financing options?
Will any portion of the cost of my procedure be covered by my dental insurance?
Are you an accredited member of the American Academy of Cosmetic Dentistry and/or any other trusted organizations?
This is by no means a comprehensive list of questions, but rather a good starting place for gaining a comprehensive understanding of your treatment options and the type of care you can expect to receive from a particular cosmetic dentist. Never hesitate to ask any additional questions you may have, and always request clarification when necessary. In the end, you want to feel fully confident and trusting in your cosmetic dentist before moving forward with treatment.
Schedule an Appointment
Colin Morton, DDS welcomes all Tech Valley residents to his progressive dental office. Make an appointment today to receive exceptional care and achieve outstanding results.