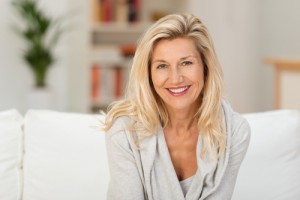 A missing tooth can impair the function of your mouth, making eating, drinking, and speaking more difficult. From an aesthetic standpoint, a missing tooth not only leaves a gap in your smile, but can also allow the surrounding teeth to shift position, eventually leading to functional bite issues. When cosmetic dentist Colin Morton, DDS replaces a missing tooth, he can do more than simply revitalize the beauty of your smile; he can restore the integrity of your bite, help you regain lost functionality, and prevent more costly repairs in the future. To do this, he utilizes dental implants.
What Are Dental Implants?
Dental implants offer an innovative method of tooth replacement that can provide stable, durable, and natural-looking results. Dental implants are designed to look and function just like normal teeth. They can also be brushed and flossed just like natural teeth. In addition, since dental implants are securely held in place, you can avoid many of the common complaints patients have about traditional removable dentures, such as slippage or gum irritation. Dental implants have given many of our patients a healthy, younger-looking smile and improved the overall quality of their daily lives.
What Are the Top Benefits of Dental Implants?
Dental implants offer numerous benefits for individuals seeking a stable, long-lasting solution to missing and/or significantly damaged teeth:
They do not require oral glues or messy adhesives to remain in place
No surrounding teeth have to be modified, such as with traditional bridges
They function just like natural teeth when biting, chewing, and speaking
The restoration on top can be custom-shaped and colored to seamlessly blend with surrounding natural teeth
They require no special care or maintenance apart from regular brushing, flossing, and dental cleanings
They help protect against jawbone deterioration that can occur if a missing tooth goes unreplaced
They are immune to decay
They have an extremely high rate of success when placed correctly by an experienced dentist
In the long-run, they can be more cost-effective than other tooth replacement methods as a result of their exceptional durability
Am I a Candidate for Dental Implants?
For qualified patients, dental implants are regarded as the most effective, most comfortable, and longest-lasting tooth replacement solution available. You may be considered a good candidate for dental implants if you:
Are interested in replacing one or multiple missing and/or damaged teeth
Are seeking a more comfortable, stable, and durable alternative to dentures
Have ample jawbone density to properly anchor the dental implant(s)
Do not have any medical issues or health conditions that could jeopardize healing following the placement of the implant(s)
During a consultation at our practice, Dr. Morton can evaluate your specific needs, goals, and oral health to determine if dental implants would be an appropriate tooth restoration option. If it is decided that you are a good candidate, he will discuss the intricacies of the procedure in full detail, allowing you to make an informed decision about whether or not you would like to proceed with treatment. In the event Dr. Morton determines that you are not a good candidate for dental implants, he will recommend potential alternatives that can help restore the function and aesthetics of your smile based on your unique situation.
What Types of Dental Implants Are Available?
At our practice, Dr. Morton offers dental implant options to replace a single tooth, multiple teeth, and even a full row of teeth. The information below can help you determine which type of implants may be most appropriate for your needs and smile goals.
Single-Tooth Implants
Single-tooth implants can be an excellent solution for the replacement of individual teeth. With this option, an implant post is anchored into the jawbone in the area vacated by the former tooth, and a dental crown that is shaped and colored to blend seamlessly with adjacent teeth is fixed to the tip for a natural-looking result.
Multiple Teeth Implants
For individuals who have three or more consecutive missing or damaged teeth, multiple dental implants may prove to be an ideal option. Depending on how many teeth are being replaced, anywhere from two to six implant posts can be secured in strategic positions along the jawbone in order to hold a multi-tooth restoration—such as a dental bridge, partial denture, or full denture—in place.
Implant Dentures
Traditional dentures and partial dentures can be inconvenient, messy, and even embarrassing. Though they are intended to help you regain the ability to speak and chew, many patients complain about their lack of confidence with traditional dentures since they can shift around or "drop" while they are speaking. However, by using four to six dental implants (per arch) to secure a denture or partial denture in place, many of these inconveniences can disappear, serving as a cosmetically appealing, more stable, comfortable form of tooth replacement which will allow you to be more confident in social situations.
Learn More About Implant Dentures
How Is the Dental Implant Procedure Performed?
The dental implant procedure is performed in two stages. First, a titanium post is implanted in the gap left by the missing tooth to serve as a durable artificial "root." These posts should gradually fuse to the jawbone, which allows dental implants to serve as a strong and long lasting form of tooth replacement. In many cases, temporary crowns may be placed directly on the new implants to fill in the spaces while the implants heal over several months. Once the fusion of the titanium post is complete, a custom-made crown is affixed to it. These crowns are designed to fit seamlessly with your other teeth, matching the shade and shape of your smile for an inconspicuous and natural look and feel.
How Long Do Dental Implants Last?
The actual dental implant post generally becomes a permanent part of the mouth with proper oral care—this includes brushing and flossing on a daily basis, as well as scheduling routine checkups and cleanings as recommended by your dentist. The custom crown, denture, or other restoration secured to the top of the implant(s) can also provide long-term results when appropriately cared for, typically lasting many years (and sometimes even decades).
How Much Do Dental Implants Cost?
The cost of dental implants will depend on numerous factors specific to each case, including how many implants are placed, what type of restoration is utilized, and whether or not any treatment—such as periodontal care or bone grafting—is required to optimize oral health beforehand. For more specific information about what comprises the price of dental implants, please click on the button below.
Learn More About Dental Implant Costs
Are Dental Implants Safe?
When performed by a dentist who is highly skilled and experienced in implant dentistry, dental implants are generally considered a safe tooth replacement option for qualified candidates. That said, there are inherent risks with any form of surgery, and dental implant surgery is no different. Some complications that can potentially arise include poor healing, infection, micromovement of the implant, or implant failure. Fortunately, the possibility that any of these issues occurs can be greatly minimized by choosing the right dentist, as well as closely following all pre- and post-operative instructions provided.
Dr. Morton has successfully performed dental implant surgery for numerous years, and he utilizes the latest, most advanced techniques and technologies available to help maximize both the safety and efficacy of treatment. In the rare event a problem does manifest, it is important to get in touch with our practice as soon as possible so Dr. Morton can resolve the issue in a timely manner.
Do Dental Implants Hurt?
In most cases, local anesthesia is all that is necessary to reduce—or even eliminate—the potential for pain during dental implant surgery. For those who are particularly anxious and/or prone to heightened levels of discomfort, Dr. Morton also offers several methods of additional relief, including nitrous oxide. Commonly called laughing gas, this sedation dentistry technique helps to create an increased sense of calm throughout the dental implant procedure, quickly wearing off after treatment with no major side effects.
In the initial stages of healing, some degree of tenderness and soreness can be expected, but these temporary symptoms should steadily decrease and can usually be easily managed with medication until completely resolved. In the end, Dr. Morton's dental implant patients typically note that very little pain or discomfort was experienced, and the overall process was much smoother and more stress-free than they had envisioned.
Are There Alternatives to Dental Implants?
For patients who are not considered good candidates for dental implants, or for those who simply prefer another tooth replacement option, Dr. Morton offers several alternatives to dental implants that can restore both form and function to the smile. Traditional dental crowns can often be a good option for "capping" a damaged or decayed tooth that does not require extraction. In the event tooth extraction is necessary, a traditional dental bridge can be used to fill the gap left by a single tooth or multiple adjacent teeth. Dr. Morton can discuss these treatments—and any additional options—with you in full detail during an appointment at our practice.
Schedule an Appointment
If you would like more information on dental implants, or to schedule a consultation, please contact us today.