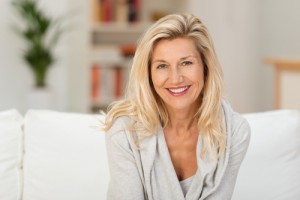 A missing tooth can impair the function of your mouth, making eating, drinking, and speaking more difficult. From an aesthetic standpoint, a missing tooth not only leaves a gap in your smile, but can also allow the surrounding teeth to shift position, eventually leading to functional bite issues. When cosmetic dentist Colin Morton, DDS replaces a missing tooth, he can do more than simply revitalize the beauty of your smile; he can restore the integrity of your bite, help you regain lost functionality, and prevent more costly repairs in the future.
Dental Implants
Dental implants offer an innovative method of tooth replacement that can provide stable, durable, and natural-looking results. Dental implants are designed to look and function just like normal teeth. They can also be brushed and flossed just like natural teeth. In addition, since dental implants are securely held in place, you can avoid many of the common complaints patients have about traditional removable dentures, such as slippage or gum irritation. Dental implants have given many of our patients a healthy, younger-looking smile and improved the overall quality of their daily lives.
Am I a Candidate for Dental Implants?
For qualified patients, dental implants are regarded as the most effective, most comfortable, and longest-lasting tooth replacement solution available. You may be considered a good candidate for dental implants if you:
Are interested in replacing one or multiple missing and/or damaged teeth
Are seeking a more comfortable, stable, and durable alternative to dentures
Have ample jawbone density to properly anchor the dental implant(s)
Do not have any medical issues or health conditions that could jeopardize healing following the placement of the implant(s)
During a consultation at our practice, Dr. Morton can evaluate your specific needs, goals, and oral health to determine if dental implants would be an appropriate tooth restoration option. If it is decided that you are a good candidate, he will discuss the intricacies of the procedure in full detail, allowing you to make an informed decision about whether or not you would like to proceed with treatment. In the event Dr. Morton determines that you are not a good candidate for dental implants, he will recommend potential alternatives that can help restore the function and aesthetics of your smile based on your unique situation.
How Is the Dental Implant Procedure Performed?
The dental implant procedure is performed in two stages. First, a titanium post is implanted in the gap left by the missing tooth to serve as a durable artificial "root." These posts should gradually fuse to the jawbone, which allows dental implants to serve as a strong and long lasting form of tooth replacement. In many cases, temporary crowns may be placed directly on the new implants to fill in the spaces while the implants heal over several months. Once the fusion of the titanium post is complete, a custom-made crown is affixed to it. These crowns are designed to fit seamlessly with your other teeth, matching the shade and shape of your smile for an inconspicuous and natural look and feel. With proper care, dental implants can last for decades.
Dental Implant Educational Seminars
Denture Replacement
Traditional dentures and partial dentures can be inconvenient, messy, and even embarrassing. Though they are intended to help you regain the ability to speak and chew, many patients complain about their lack of confidence with traditional dentures since they can shift around or "drop" while they are speaking. However, by using just a few dental implants to secure a denture or partial denture in place, many of these inconveniences can disappear, serving as a cosmetically appealing, more stable, comfortable form of tooth replacement which will allow you to be more confident in social situations.
Learn More About Implant Dentures
Schedule an Appointment
If you would like more information on dental implants, or to schedule a consultation, please contact us today.