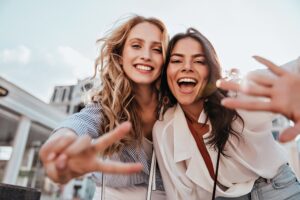 Having gaps in your smile can be unsettling, potentially undermining your confidence and making it more difficult to maintain your oral hygiene. Prominent gaps can cause food particles to become trapped between the teeth, leading to increased bacterial growth and a higher risk of infection. Some patients also find themselves refraining from smiling to avoid revealing the unwanted spaces between their teeth. Fortunately, Ballston cosmetic dentist Colin Morton, DDS offers a variety of advanced treatments that can improve the aesthetics and functionality of your smile. There are a number of options available to treat gaps between your teeth, but porcelain veneers present an excellent choice for many patients.
Porcelain Veneers
Porcelain veneers can be an ideal solution to a variety of dental conditions, including gaps between the teeth. A major benefit of veneers treatment is the rapid aesthetic enhancement it can provide. Sometimes referred to as "instant orthodontics," veneers can help address stained, crooked, worn, chipped, and mildly misaligned teeth in as few as two visits. They also allow for cosmetic improvements regarding the shape and length of your teeth. For those interested in a straighter, whiter, and/or more uniform smile, veneers can be a great alternative to more time-consuming treatments, such as braces. Dr. Morton has years of experience helping patients achieve transformative results with veneers, and he can help close the gaps between your teeth for a more confident, aesthetically pleasing smile appearance.
Contact
For those interested in learning more about porcelain veneers, contact us today! Our team of professionals can help answer any questions you may have or schedule an appointment with Dr. Morton for you.
Schedule Your Consultation