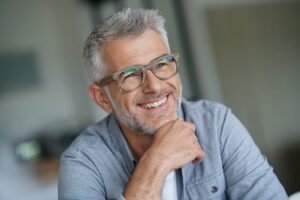 For many years, traditional dentures were the go-to treatment for replacing rows of missing teeth; however, advances in dental technology have introduced a new treatment option for those experiencing tooth loss: dental implants. Custom-crafted and rooted directly into the jawbone, implants often have a number of advantages over traditional dentures in terms of comfort, durability, and aesthetics. That said, traditional dentures remain an effective full-arch replacement option for many patients who have lost most or all of their teeth. 
Our cosmetic dentist, Colin Morton, DDS, has over twenty years of experience helping patients replace missing teeth, and he can assist you in choosing the optimal treatment for your needs. His skill and guidance have improved the functionality and appearance of countless patients' smiles. Below, he has outlined some of the key differences between traditional dentures and dental implants.
Dentures 
Traditional dentures have helped many individuals regain their confidence after tooth loss. In addition to mimicking the look of a full-set of natural teeth, these custom-fabricated prostheses can help improve chewing and speaking function while supporting facial structures that can be rendered vulnerable following tooth loss. 
That said, removable dentures may also come with several potential drawbacks for some patients, such as: 
A loose or unstable feel in the mouth 
A strong tendency to wear down the jawbone 
The need for messy adhesives to keep the prosthetic in place
The risk of denture sores  
Dental Implants
Dental implants are an advanced and versatile solution to tooth loss. One implant can replace the entire structure—including the root—of a single missing tooth, or a few implants can be used to support an implant denture or bridge for more extensive teeth replacement. Patients at our Ballston Lake practice have recognized numerous benefits of dental implants and implant-supported restorations, such as:
Enhanced durability and security 
A high success rate (when placed by a qualified implantologist, such as Dr. Morton)
Beautiful custom-crafted crowns or multi-tooth restorations designed to match—and even enhance—the appearance of your smile
A comfortable, stable fit that shouldn't slide or slip like a traditional denture
No unpleasant pastes or adhesives
No special requirements for cleaning or maintenance  
The ability to encourage healthy bone growth
Dr. Morton is well-versed in the dental implant process. No matter the number or location of teeth that need replacing, he will carefully plan the procedure to make sure your implant restorations look and feel as natural as possible. In addition, our advanced TeethXpress® system can often provide outstanding tooth replacement results in a single visit.
Contact
Dr. Morton and the rest of our dedicated staff strive to provide compassionate, personalized care for every patient. For more information about dentures, dental implants, or any of our restorative solutions, please contact us today! 
Schedule Your Consultation