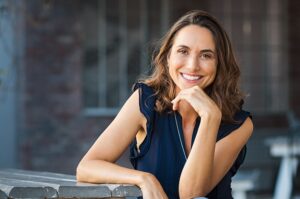 Cracking or chipping a tooth can be extremely frustrating and potentially very painful. Have you found yourself with a cracked tooth? Ballston cosmetic dentist Colin Morton, DDS can help address damaged teeth using a range of cosmetic and restorative dentistry solutions. Generally, the primary choices for fixing cracked or chipped teeth are porcelain crowns or porcelain veneers. 
Porcelain Crowns
Teeth can become compromised for a variety of reasons, including natural decay and dental trauma. Porcelain crowns can be an effective method of repairing cracked, chipped, or broken teeth, as they can provide support to damaged tooth structures and restore their strength. Dr. Morton also has extensive experience providing crowns that are nearly indistinguishable from your natural teeth. 
The first step of porcelain crown restoration typically involves Dr. Morton reshaping the damaged tooth or teeth in preparation for crown placement. After taking an impression of the affected tooth or teeth in order to ensure a precise and custom fit, Dr. Morton is then ready to securely bond the crown(s) at your next visit. Once the porcelain crown procedure is completed, your smile can essentially be restored to its natural look, feel, and function. 
Porcelain Veneers
Porcelain veneers can offer patients a quick and reliable treatment for minor cracks and chips. Although they are typically associated more with cosmetic dentistry, veneers can also act as a restorative measure to help support and reshape damaged teeth.
Veneers are thin, durable shells made of dental porcelain that are fitted over the fronts and sides of the teeth. Dr. Morton can use them to help repair a variety of aesthetic and functional dental imperfections, including cracks, chips, staining, and gaps between the teeth. Veneers can also be used to alter the shape of your teeth, add or reduce length for a more uniform appearance, and even change the alignment of your bite. Furthermore, this smile-transforming process can often be completed in just two appointments. 
Contact
If you would like to learn more about porcelain veneers, dental crowns, or any of the other restorative treatments Dr. Morton offers, contact us today!
Schedule Your Consultation