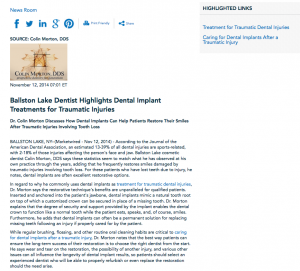 Dr. Colin Morton discusses how dental implants can help patients restore their smiles after traumatic injuries involving tooth loss.
Ballston Lake, NY — According to the Journal of the American Dental Association, an estimated 13-39% of all dental injuries are sports-related, with 2-18% of those injuries affecting the person's face and jaw. Ballston Lake cosmetic dentist Colin Morton, DDS says these statistics seem to match what he has observed at his own practice through the years, adding that he frequently restores smiles damaged by traumatic injuries involving tooth loss. For these patients who have lost teeth due to injury, he notes, dental implants are often excellent restorative options.
In regard to why he commonly uses dental implants as treatment for traumatic dental injuries, Dr. Morton says the restorative technique's benefits are unparalleled for qualified patients. Inserted and anchored into the patient's jawbone, dental implants mimic a natural tooth root on top of which a customized crown can be secured in place of a missing tooth. Dr. Morton explains that the degree of security and support provided by the implant enables the dental crown to function like a normal tooth while the patient eats, speaks, and, of course, smiles. Furthermore, he adds that dental implants can often be a permanent solution for replacing missing teeth following an injury if properly cared for by the patient.
While regular brushing, flossing, and other routine oral cleaning habits are critical to caring for dental implants after a traumatic injury, Dr. Morton notes that the best way patients can ensure the long-term success of their restoration is to choose the right dentist from the start. He says wear and tear on the restoration, the possibility of another injury, and various other issues can all influence the longevity of dental implant results, so patients should select an experienced dentist who will be able to properly refurbish or even replace the restoration should the need arise.
Ultimately, Dr. Morton acknowledges that not every patient who has lost – or even damaged – a tooth as a result of a traumatic injury is a good candidate for dental implants, which is another reason he stresses the importance of choosing the right dentist. He says a well-trained and qualified dentist will be able to determine the most effective treatment based on each patient's unique needs.
About Colin Morton, DDS
Dr. Morton is the fourth generation of his family to work in the dental field. In addition to dental implants, he offers porcelain veneers, teeth whitening, and a variety of other general and cosmetic dental procedures at his Ballston Lake practice. Dr. Morton is a Fellow of the International Congress of Oral Implantologists as well as a member of the American Academy of Cosmetic Dentistry, the Academy of General Dentistry, and the American Dental Association. He is available for interview upon request.
For more information, visit colinmortondds.com and plus.google.com/100646536887283340636/about.
Contact:
Dr. Colin Morton
One Rosell Drive
Ballston Lake, NY 12019
(518) 877-8687
Rosemont Media
(858) 200-0044
www.rosemontmedia.com