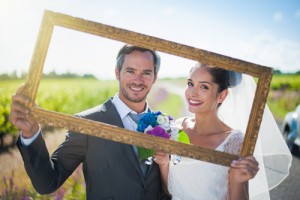 The weather is warming up, the flowers are starting to bloom, and wedding season is just around the corner. At our practice, Dr. Colin Morton and our team love helping brides and grooms get ready for their big day by boosting the appearance of their teeth. With the hundreds of photographs and videos taken at weddings these days, our goal is to help you achieve a bright, beaming smile that you're proud to put on display when you say "I do" – and one that you'll be pleased with when you look back on your day in the years to come.
For most people, the fastest, most cost-effective way to revitalize a smile is with professional-grade teeth whitening. By wearing specialized take-home trays provided by our practice, you can significantly brighten the color of your teeth in the comfort and convenience of your own home! This simple solution is relatively quick, and the results can truly have a positive effect on your overall facial aesthetic.
If you are happy with the color of your teeth but instead have other issues you wish to address, we can also be of assistance. Usually completed in just two stages, porcelain veneers can often be an excellent option for women and men seeking to conceal chips, cracks, gaps, and minor tooth misalignments. Similarly, porcelain crowns can offer patients a two-stage process to restore damaged and/or worn-down teeth with beautiful, natural-looking results.
Whatever your dental needs may be, Dr. Morton and our staff can help you address your concerns and get your smile looking its best in time for your wedding. If your big day is coming up, please feel free to contact us today to schedule an appointment.
Schedule Your Consultation