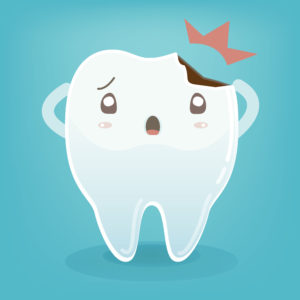 Chipped and/or cracked teeth are two of the most common aesthetic concerns people have in regard to the appearance of their smile. Fortunately, they are also two of the most easily treatable issues thanks to modern cosmetic dentistry. Generally speaking, the top solutions for cracked and/or chipped teeth are:
Porcelain Veneers – For chips or cracks on front teeth that are otherwise healthy, porcelain dental veneers are often the best treatment option. These ultra-thin, translucent shells are custom-designed to cover the front surface of teeth, effectively hiding any aesthetic concerns underneath. Due to the durability and natural appearance of the porcelain material, veneers can last several years—even decades—with proper care.
Porcelain Crowns – For back teeth that have chips and/or cracks, porcelain dental crowns are typically the ideal solution. As opposed to simply covering the front portion of teeth, this cosmetic dentistry option is designed essentially "cap" damaged teeth, effectively restoring tooth form and function while protecting against future harm. Like veneers, porcelain crowns can be incredibly long-lasting when optimal oral hygiene habits are maintained.
At our practice, Dr. Colin Morton is highly skilled and experienced in using both porcelain veneers and dental crowns to correct chipped and/or cracked teeth—as well as numerous other aesthetic tooth-related concerns. All treatments are custom-tailored to yield the most successful, longest-lasting, and natural-looking results possible.
If you wish to fix chipped and/or cracked teeth—or if you have any other concerns related to the appearance or health of your smile—please feel free to contact us today to schedule an appointment with Dr. Morton.
Schedule Your Consultation