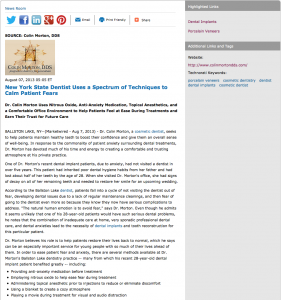 Dr. Colin Morton uses nitrous oxide, anti-anxiety medication, topical anesthetics, and a comfortable office environment to help patients feel at ease during treatments and earn their trust for future care
Ballston Lake, NY – Dr. Colin Morton, a Ballston Lake cosmetic dentist, seeks to help patients maintain healthy teeth to boost their confidence and give them an overall sense of well-being. In response to the commonality of patient anxiety surrounding dental treatments, Dr. Morton has devoted much of his time and energy to creating a comfortable and trusting atmosphere at his private practice.
One of Dr. Morton's recent dental implant patients, due to anxiety, had not visited a dentist in over five years. This patient had inherited poor dental hygiene habits from her father and had lost about half of her teeth by the age of 28. When she visited Dr. Morton's office, she had signs of decay on all of her remaining teeth and needed to restore her smile for an upcoming wedding.
According to the Ballston Lake dentist, patients fall into a cycle of not visiting the dentist out of fear, developing dental issues due to a lack of regular maintenance cleanings, and then fear of going to the dentist even more so because they know they now have serious complications to address. "The natural human emotion is to avoid fear," says Dr. Morton. Even though he admits it seems unlikely that one of his 28-year-old patients would have such serious dental problems, he notes that the combination of inadequate care at home, very sporadic professional dental care, and dental anxieties lead to the necessity of dental implants and tooth reconstruction for this particular patient.
Dr. Morton believes his role is to help patients restore their lives back to normal, which he says can be an especially important service for young people with so much of their lives ahead of them. In order to ease patient fear and anxiety, there are several methods available at Dr. Morton's Ballston Lake dentistry practice – many from which his recent 28-year-old dental implant patient benefited greatly – including:
Providing anti-anxiety medication before treatment
Employing nitrous oxide to help ease fear during treatment
Administering topical anesthetic prior to injections to reduce or eliminate discomfort
Using a blanket to create a cozy atmosphere
Playing a movie during treatment for visual and audio distraction
The number one technique Dr. Morton uses to calm his nervous patients is to treat them with the utmost care and compassion. He says he strives to build trust so that patients with anxiety will feel comfortable returning to the practice to complete their dental treatments. In regard to his recent dental implant patient, Dr. Morton said, "I think we were the first dentist office she trusted enough to comprehensively follow through a treatment plan and achieve a state of good oral health." In addition to dental implants, Dr. Morton also performed cosmetic bonding procedures and crown work for this patient to fully restore her teeth and give her a smile she could be proud of at her upcoming wedding.
Honest and open communication is the key component to Dr. Morton's treatment methodology. He always encourages his cosmetic dentistry patients to express any concerns so that he can address their needs or break up treatment sessions. Dr. Morton says his patients have an understanding that he cares about what is going on, not only with their health and the end results, but also with the comfort of their experience at his practice. While he notes many dentists are concerned about working through their list of patients, Dr. Morton adds that he treats his patients as he would like to be treated in order to ease patient fears and create trusting relationships.
About Colin Morton, DDS
Dr. Colin Morton is an experienced dentist practicing in the Ballston Lake – Saratoga Springs, NY area. His dental practice offers a full range of cosmetic and restorative dental services including teeth whitening, porcelain veneers, dental implants, and more. Dr. Morton is a member of the American Dental Association, the Academy of General Dentistry, the American Academy of Cosmetic Dentistry, and the International Congress of Oral Implantologists. He is available for interview upon request.
For more information about Dr. Morton and his Ballston Lake dentistry practice, visit colinmortondds.com.
Contact:
Dr. Colin Morton
One Rosell Drive
Ballston Lake, NY 12019
(518) 877-8687
Rosemont Media
tom@rosemontmedia.com
(858) 200-0044
www.rosemontmedia.com