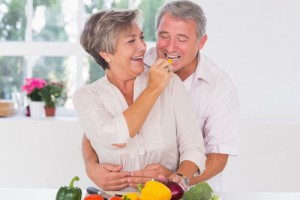 For patients struggling with the inconveniences and discomfort of traditional dentures, Dr. Colin Morton offers a state-of-the-art alternative. Dental implants have revolutionized the way in which dentures can replace missing teeth. Implant dentures can restore your teeth with natural-looking results that improve the functionality of your mouth as well as the beauty of your smile.
To learn more about implant dentures, we encourage you to read through the expansive information provided below. If you have any questions, or if you would like to schedule a consultation with our skilled dentist, please feel free to contact our practice online or by telephone today.
What Is an Implant Denture?
Also referred to as an implant-supported denture or anchored denture, an implant denture is a full arch restoration designed to replace an entire row of upper or lower teeth. In contrast to conventional dentures that are held in place by oral adhesives, implant dentures are attached to a number of dental implants anchored in the jawbone, providing exceptional comfort and security when eating, speaking, and smiling.
Implant-Retained vs. Implant-Supported Dentures
Implant-retained dentures and implant-supported dentures differ in the following ways:
Implant-Retained Dentures – Fewer dental implants (and sometimes only mini dental implants) are needed for implant-retained dentures, but the force of the bite is mostly absorbed by the gums. As a result, implant-retained dentures do not entirely replicate a natural bite. In addition, they need to be taken out nightly for cleaning and proper oral hygiene.
Implant-Supported Dentures – With implant-supported dentures, the force of the bite is directed through the dental implants and into the jawbone. Though a greater number of implants is required in comparison to implant-retained dentures, this creates a much stronger, more natural bite. Furthermore, implant-supported dentures do not typically detach from the implants, eliminating the need for extra cleaning and maintenance.
Who is a Candidate for Implant Dentures?
Patients who are missing all or most of the teeth on one or both dental arches are often ideal candidates for implant dentures. This innovative procedure can help restore full arches of teeth using only a few carefully placed dental implant posts. Long-time wearers of traditional dentures often find that making the switch to implant dentures offers enhanced comfort, function, and aesthetics. That said, in order to ensure an optimal treatment outcome, it is important that patients have adequate jawbone density to support the implants. During a consultation, Dr. Morton can assess the state of your oral health and jaw in order to determine whether you are a good candidate. In cases where patients have experienced significant jawbone deterioration, a bone graft may be recommended prior to implant surgery.
What Are the Benefits of Implant Dentures?
For women and men seeking to replace multiple missing and/or severely damaged teeth, the benefits of implant-supported dentures can include:
Increased stability
No messy adhesives
Improved comfort
Preservation of bone and tissue
Natural-looking teeth
Long-lasting results
New teeth in a single office visit
Since these dentures are securely fastened into place by a set of dental implants, the slippage, irritation, use of adhesives, and loss of bone and tissue that are associated with more traditional methods of tooth replacement can be avoided. In addition, these traditional denture alternatives can be custom-designed to fit the precise dimensions of your mouth and crafted to resemble your natural teeth.
What Are My Different Implant Denture Options?
At our practice, Dr. Morton utilizes a same day anchored dentures system known as TeethXpress®. Depending on your specific needs, the following implant denture options are available:
All-on-4® Implant Dentures
All-on-4® implant supported dentures are designed to replace missing teeth on the upper or lower arch using only four dental implants. With this technique, four implants will be inserted into the jawbone along either the upper or lower arch, with the two posterior implants being placed at an angle to maximize jaw bone availability and improve stability. Once in position, a customized set of dentures is secured to the tips of the four implant posts, completing the restoration.
All-on-6 Implant Dentures
All-on-6 anchored dentures are very similar to All-on-4®, with the difference being that six dental implants are used to anchor the upper or lower arch prosthetic. This technique is typically an appropriate option when four implants would not provide a sufficient amount of support for the full arch restoration due to factors such as jawbone quality/density.
Full Mouth Restoration
The term "full mouth restoration" refers to replacing all of one's upper and lower teeth using implant-supported dentures. This is accomplished by placing either an All-on-4® or All-on-6 implant denture on the upper arch, as well as an All-on-4® or All-on-6 implant denture on the lower arch. The final outcome is a fully functional, natural-looking set of new teeth.
Implant Bridges/Partial Implant Dentures
An implant bridge—sometimes called a partial denture—is designed to replace two or more consecutive teeth on an arch. This treatment is often ideal for those who are missing multiple teeth but who are not in need of full arch replacement. During a consultation, Dr. Morton can assess your unique tooth replacement needs in order to determine how many implants will be needed to support your bridge with optimal stability. From there, a custom bridge prosthetic is designed to beautifully restore your smile.
Teeth in a Day with TeethXpress® — Same Day Implant Dentures Procedure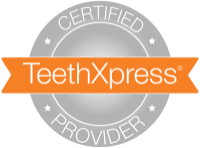 Dr. Morton is a certified provider of TeethXpress®—a state-of-the-art implant denture system designed to allow patients to receive anchored dentures in a day. During your initial consultation, he will perform a thorough oral evaluation to determine if TeethXpress® implant dentures would be right for your unique needs and goals. If it is decided that you are a good candidate, Dr. Morton will create a customized treatment plan and cover every aspect of care in complete detail to ensure you have a full understanding of what to expect based upon your individual circumstances.
On the day of your scheduled TeethXpress® procedure, Dr. Morton will carefully place four (or six) dental implants in strategic locations along the jawbone of the upper or lower arch, typically using local anesthesia. If needed, this implant placement process will then be repeated for the opposite arch. Once all implants are secured into position, your denture(s) will be affixed to the top of each post using special prosthetic screws. Depending on the specific treatment plan formulated during the initial visit, Dr. Morton can use your current denture(s), or he can utilize a new set that he will have custom-made prior to the procedure. In either case, you should be able to leave our office with new teeth the same day.
Following the TeethXpress® implant denture treatment, you may experience some minor discomfort, but this can usually be alleviated with medication. Most individuals feel well enough to return to work and other normal daily routines the following day, and they can once again enjoy all of their favorite foods and beverages. Ultimately, Dr. Morton's patients have been able to chew, drink, and speak with ease after switching from traditional dentures to implant-supported dentures, and they have beautiful smiles that can give a renewed sense of confidence in their professional and personal lives.
How Do I Clean and Care for My Implant Dentures?
Implant-supported dentures look and function just like natural teeth—and they should be treated as such. This means brushing and flossing at least twice daily to keep the restorations and surrounding gum/bone tissue free of harmful bacteria, as well as returning to the dentist for professional cleanings bi-annually (or as often as recommended by Dr. Morton based on your oral health).
In addition to maintaining optimal oral hygiene, properly caring for your implant dentures includes avoiding bad habits like fingernail biting, crunching on hard candy or ice, and using your teeth as a tool to open bags, packages, and various other items—all of which can cause excessive wear and tear, potentially shortening the lifespan of your restoration. While there are generally no long-term diet restrictions for patients with implant-supported dentures, Dr. Morton also recommends exercising caution when chewing foods that may contain hard pits (such as certain olive and cherry varieties) for similar reasons.
How Long Do Implant-Supported Dentures Last?
When treatment is properly performed by a skilled and experienced dentist, implant dentures can be extremely long-lasting. In fact, the dental implants themselves actually become a permanent part of the mouth once fully fused to the jawbone, and the customized denture restoration secured on top usually lasts many years—often even decades.
To help prolong the lifespan of your implant-supported dentures, Dr. Morton advises the following:
Maintain optimal oral hygiene habits
Schedule professional dental cleanings at least twice annually
Refrain from smoking and/or the use of other tobacco products
Avoid forcefully biting down on hard foods and items
Wear a protective mouthpiece when participating in physical sports or activities
Additionally, if you suffer from teeth grinding or clenching (bruxism) while sleeping, the use of a mouthguard at night can aid in protecting your implant-supported dentures from these potentially damaging forces, helping to increase the longevity of your restoration.
How Much Do Implant-Supported Dentures Cost?
The total cost of implant dentures will depend on several different factors unique to each patient. Some of the most notable elements influencing price include:
Whether upper dentures, lower dentures, or both are placed
The number of dental implants used to secure the dentures
Whether or not tooth extraction, gum care, and/or bone grafting is needed
The particular implant denture system and quality of materials/technology utilized
The overall complexity of the case
In addition to these treatment-specific components, implant-supported denture pricing can also be impacted by the expertise and experience of the dentist, as well as the geographic location of the practice.
To receive a personalized quote for the cost of implant-supported dentures, you will need to schedule an appointment with Dr. Morton. During this visit, he can assess your oral health and dental needs, formulate a customized treatment strategy, and provide a breakdown of all associated expenses based on your individualized plan. If you wish, a member of our team can also speak with you about dental financing options at this time to help make treatment as budget-friendly as possible.
Additional Frequently Asked Questions About Implant Dentures
What do implant dentures feel like?
Implant dentures are designed to emulate your natural teeth in look, function, and feel. While it may take a few days to weeks for you to grow accustomed to your new implant dentures, they should begin to feel like a natural part of the mouth soon after treatment.
In the rare event your implant dentures are in any way uncomfortable, please contact our office and we will schedule an appointment with Dr. Morton.
Do implant dentures hurt?
Due to the use of local anesthesia, most patients typically describe a sensation of pressure as opposed to pain or discomfort during the implant dentures procedure. That said, for anyone who has a particularly low pain tolerance—or for those who suffer from dental anxiety—Dr. Morton offers nitrous oxide (laughing gas) to help ensure the most comfortable experience possible. Following the implant dentures procedure, it is common to feel some degree of soreness where the implants were placed, but this can be relieved with medication until fully resolved on its own.
Will implant dentures change my speech?
As implant dentures are generally highly resistant to slipping, they are unlikely to have any long-term impacts on your speech. This is another advantage implant dentures hold over traditional dentures, which have a much larger chance of altering speech.
Note that you may notice some minor lisping for the first few days after receiving your new teeth, but most people regain their normal speech patterns quite quickly once they have had time to get used to the feel of their implant dentures.
Why not replace all teeth with individual dental implants as opposed to implant-supported dentures?
Single dental implants are excellent for replacing individual teeth throughout the mouth, but when most—or even all—teeth need to be replaced, an implant-supported denture is usually a better option. Not only is it generally more cost-effective, but it requires less surgery than would be needed to replace every tooth along an upper and/or lower arch with a dental implant, therefore reducing unnecessary risks and potential complications associated with more extensive surgery.
Can I get implant dentures if I already have traditional dentures?
Many of our patients have made the switch from traditional to implant dentures. While both can be effective full-arch replacements, implant dentures feature many benefits that traditional dentures do not. Because they are placed directly into the mouth and are meant to blend inconspicuously with the natural teeth, they do not involve any adhesives, and are often considered more comfortable than traditional dentures.
One of the most significant differences between the two is the fact that implant dentures can improve bone health. The titanium posts that make up the implants fuse with your jaw bone and encourage bone retention and growth. These benefits make implant dentures an ideal tooth replacement option for many patients in the modern dental world.
How many implants will I need to support my implant denture?
The total number of implants you will need to support your implant denture(s) depends on several factors, including the density of your jawbone and which row of teeth is being replaced—upper or lower. Dr. Morton generally uses four to six implants per arch to support implant dentures, as placing too few implants greatly heightens the risk of implant denture failure. Since any force applied to the dentures (such as when chewing or biting down on something) is absorbed by the implants themselves, excessive pressure on a limited number of implants could cause them to loosen from the jawbone and/or overdenture. At the time of your appointment, Dr. Morton can determine the appropriate number of implants for optimal success following a comprehensive oral evaluation.
Will I need a bone graft to get implant dentures?
Whether or not a bone graft is recommended prior to implant surgery is determined on a case-by-case basis. Those who do not have adequate jawbone density may require a bone graft to create a stronger support and foundation for the implant posts. Dr. Morton's goal is to help his patients obtain optimal oral health and wellness. During the initial implant denture consultation, he will take the time to thoroughly review your health history and perform a comprehensive examination of your oral structures and jawbone. From there, he can make personalized suggestions regarding potential preparatory steps, such as periodontal therapy and bone grafting.
Are there any restrictions after receiving implant-supported dentures?
One of the greatest benefits of implant-supported dentures is they enable patients to enjoy all the foods they love without any restrictions. That being said, you should treat your implant dentures as you would your natural teeth, taking care not to bite forcefully down on particularly hard substances like ice, various candies, and pitted fruit. Also, it is advised that you avoid using your teeth to open packaging and other items, which can lead to unnecessary damage to your restoration(s).
Can I get implant dentures if I still have some healthy natural teeth?
Implant-supported dentures are usually recommended when most—or all—of a patient's teeth along an upper and/or lower arch are significantly damaged or missing. In the event you have a small number of healthy natural teeth interspersed among mostly damaged or missing teeth, the healthy teeth can typically be extracted to create space for the full-arch implant denture(s). However, if the majority of your teeth are healthy with only a few missing or damaged, single-tooth dental implants and/or another restorative dentistry treatment may be a better solution. Dr. Morton can determine the most appropriate and beneficial method for you at the time of your appointment.
What type of dentist is qualified to place implant-supported dentures?
While many dentists offer implant procedures, not all of them possess the same levels of training and expertise. During your search for a provider, Dr. Morton suggests looking for the following qualities in an implant dentist:
Advanced training in implant dentistry, including techniques such as All-on-4® and TeethXpress®
Extensive experience showcased by a high volume of successful implant procedures
Membership in implant-specific professional organizations, such as the International Congress of Oral Implantologists
Readily available before-and-after photos of past cases
Reviews and testimonials that indicate a history of patient satisfaction
During your implant denture consultation, a prospective provider should be ready and willing to answer any questions you may have about the procedure or their qualifications, and you should never feel pressured to commit to treatment. Your comfort, safety, and satisfaction are key, and finding the right provider for your needs is an important part of ensuring a successful result.
Can I finance the cost of implant dentures?
Dr. Morton believes that high-quality dental treatment should be available to all patients who need it, and we do not want the cost of treatment to keep you from obtaining the smile you desire. In addition to accepting all major credit cards, we work with CareCredit®, a trusted third-party option for financing dental procedures. We also advise you to speak with your insurance provider in advance to see if they may offer coverage for implant dentures.
What can I do to help ensure the success of my implant dentures?
There are steps you can take to help support the success of your implant dentures before you even meet with your dentist. Since smoking can have a negative effect on oral health and, in turn, implant health, you are advised to quit before undergoing this procedure. You should also be mindful of teeth grinding, a habit that can place excess wear on your denture appliance and cause long-term complications. Additionally, it is best to make sure you have consulted a qualified and experienced implantologist—such as Dr. Morton—to perform the procedure.
When cared for properly, implants can last for decades. Implant denture care involves carefully adhering to a dental health routine, including brushing, flossing, and attending regular professional cleanings and exams. If you have specific questions about maintenance, we encourage you to speak with Dr. Morton.
Schedule an Appointment
If you would like more information on this traditional denture alternative, or to schedule a consultation with Dr. Morton, please contact our office today.